Chemische Reinigung & Wäscheservice Chatbot-Vorlage
Generieren und qualifizieren Sie Leads für chemische Reinigung und Wäsche, kommunizieren Sie und schließen Sie Verkäufe mühelos ab.
Mit dieser Bot-Lösung können Sie den Verkauf von chemischer Reinigung und Wäsche für die Automatisierung abschließen. 1) Leads in Google Sheet qualifizieren 2) Verkauf per Handy abschließen und Wäscheabholung planen 3) Kundensupport automatisieren 247 4) Kunden können den Status ihrer Wäschebestellung per Messenger abfragen und abrufen. [Verfügbar bei ManyChat und Chatfuel]
Zeitbasierte Begrüßung
Wenn Benutzer Ihrer Unternehmensseite mit Ihrem Unternehmen interagieren, können sie je nach Tageszeit begrüßt werden, z. B. Guten Morgen, Nachmittag oder Abend. Ist das nicht cool?
Status der Kundenwäschebestellung
Mit dieser Funktion können Ihre Wäschekunden den Status ihrer Wäschebestellung über Messenger abrufen. Einfach und elegant.
 Feedback und Bewertung zum Wäscheservice
Das integrierte 5-Sterne-Bewertungssystem ermöglicht es Ihnen, automatisch Service-Bewertungen von Ihren Kunden anzufordern.
An Bord führt mühelos neue Wäsche
Diese Bot-Lösung würde Ihnen helfen, neue Leads für Wäscherei und chemische Reinigung in der Automatisierung zu integrieren und diese in Kunden zu verwandeln.
Liefern Sie hervorragenden Kundenservice 247
Template verfügt über integrierte AI- und Natural Language Processing-Funktionen, die Ihre Interessenten und Kunden auf Facebook immer ansprechen.
What You Get
Feel like modifying something in the chatbot? All of our templates were built using Chatfuel without writing code. This means you don't need to have any programming or technical skills to customize them.
Preview Template
See how the Chemische Reinigung & Wäscheservice Chatbot-Vorlage is used to drive sales and engage with customers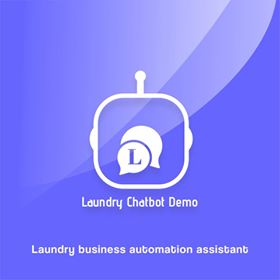 Laundry chatbot demo chatbot
Platforms & Integrations
This chatbot can be connected to a variety of apps
Available on , Chatfuel and ManyChat for Facebook Messenger
Frequently asked questions
Find the answers to common questions about the BotMakers Marketplace
Explore more chatbot templates