Kundenbindungsprogramm Bot für Messenger
Steigern Sie Wiederholungsverkäufe, steigern Sie die Kundenbindung und schaffen Sie Markentreue direkt auf Messenger
Nutzen Sie das Messenger-Marketing, um Ihre besten Kunden Punkte sammeln zu lassen und Auszeichnungen in Ihrem Chatbot zu gewinnen
Steigern Sie den Umsatz mit Autopiloten für Stammkunden
Treueprogramme können den Wiederholungsumsatz für fast alle Geschäftsbereiche um 20 Prozent steigern ... Zumindest! Es macht doppelt Spaß, wenn es auf Autopilot ist!
Verdienen Sie Punkte direkt im Messenger
Verwenden Sie ManyChat Growth Tools, um einen Facebook-Messenger-Code zu generieren ... Keine Eingabe erforderlich. Es kann gescannt werden, um Kunden sofort mit dem Bot zu verbinden, um den Kauf zu bestätigen und Punkte zu sammeln.
Passen Sie sich jedem Geschäft an
Passen Sie diesen Bot in wenigen Minuten an jede Nische an, um Mehrwert für Ihr Unternehmen und Ihre Kunden zu schaffen.
Intelligente Nachverfolgung
Sobald Kunden einen ersten Einkauf getätigt haben, werden sie automatisch für die Push-Sequenz registriert, die Sie freundlich daran erinnert, die restlichen Einkäufe abzuschließen und als Ergebnis die Verkäufe zu steigern.
Passwortschutz
Um den Kauf zu bestätigen, muss ein Kassierer ein korrektes Passwort eingeben (das Passwort kann einfach von den Administratoren des Bots angepasst werden).
Schritt für Schritt Anleitung
Sie sind sich nicht sicher, wie Sie den Bot für Ihr Unternehmen anpassen sollen? Hier finden Sie eine detaillierte Anleitung zur Verwendung der Treuekampagne in dieser Vorlage.
Jederzeit alarmieren
Seitenadministratoren erhalten eine E-Mail- oder Messenger-Benachrichtigung mit allen vom Bot erfassten Informationen.
What You Get
Feel like modifying something in the chatbot? All of our templates were built using without writing code. This means you don't need to have any programming or technical skills to customize them.
Preview Template
See how the Kundenbindungsprogramm Bot für Messenger is used to drive sales and engage with customers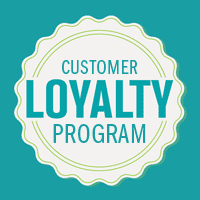 Customer Loyalty Program chatbot
Platforms & Integrations
This chatbot can be connected to a variety of apps
Available on ManyChat for Facebook Messenger
Frequently asked questions
Find the answers to common questions about the BotMakers Marketplace
Explore more chatbot templates