Dry Cleaning & Laundry Chatbot Template
Generate and qualify dry cleaning & laundry leads, communicate and close sales effortlessly.
This bot solution would help you close dry cleaning & laundry sales on automation. 1) Qualify leads into google sheet 2) Close sales via mobile & schedule laundry pickup 3) Automate customer support 247 4) Allow clients to be able to query & get their laundry order status via messenger. [Available on ManyChat and Chatfuel]
Time based greeting
When users of your business page interact with your business, they can be greeted based on the time of the day e.g Good morning, afternoon or evening e.t.c. Is this not cool?
Client laundry order status
This feature would enable your laundry clients to be able to know the status of their laundry order via messenger. Simple & elegant.
Post laundry service feedback & review
The integrated 5 star review system would enable you to request for service reviews from your customers automatically.
On-board new laundry leads effortlessly
This bot solution would help you on-board new laundry and dry cleaning leads on automation and turn them into customers.
Deliver awesome customer service 247
Template has inbuilt AI and Natural Language Processing functionality that would always engage your prospects & customers on facebook.
What You Get
Feel like modifying something in the chatbot? All of our templates were built using Chatfuel without writing code. This means you don't need to have any programming or technical skills to customize them.
Preview Template
See how the Dry Cleaning & Laundry Chatbot Template is used to drive sales and engage with customers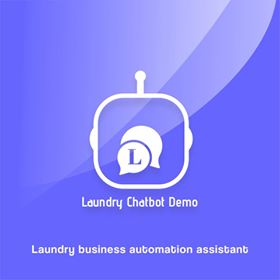 Laundry chatbot demo chatbot
Platforms & Integrations
This chatbot can be connected to a variety of apps
Available on Facebook Messenger, Chatfuel and ManyChat
Frequently asked questions
Find the answers to common questions about the BotMakers Marketplace
Explore more chatbot templates