Customer Loyalty Program Bot for Messenger
Boost repeat sales, drive customer retention and create brand loyalists directly on Messenger
Whether you are online or offline business, use Messenger marketing to let your best customers collect points and win awards inside your chatbot
Boost sales with return customers on autopilot
Loyalty programs can increase repeat sales for almost every type of business by 20 percent... At least! It's doubly enjoyable when it's on autopilot!
Earn points directly on Messenger
Use ManyChat Growth Tools to generate a Facebook messenger code... No typing needed. It can be scanned to instantly link customers to the bot to confirm the purchase and earn points.
Adapt for any business
Adapt this bot for any niche in just a few minutes to create value for both your business and your customers.
Smart follow-ups
Once customers make a first purchase, they will be automatically subscribed to push sequence that will kindly remind finishing the rest purchases and increasing sales as a result.
Password protection
To validate the purchase, a cashier must enter a correct password (the password can be easily customized by bot's admins).
Step-by-step guide
Not sure how to fit the bot for your business? Find the detailed instruction on how to use the loyalty campaign inside using this template.
Alert anytime
Page administrators will get an email or Messenger notifications with all the information tracked by the bot.
What You Get
Feel like modifying something in the chatbot? All of our templates were built using without writing code. This means you don't need to have any programming or technical skills to customize them.
Preview Template
See how the Customer Loyalty Program Bot for Messenger is used to drive sales and engage with customers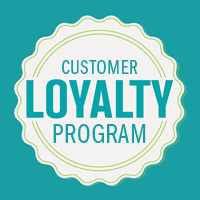 Customer Loyalty Program chatbot
Platforms & Integrations
This chatbot can be connected to a variety of apps
Available on ManyChat for Facebook Messenger
Frequently asked questions
Find the answers to common questions about the BotMakers Marketplace
Explore more chatbot templates